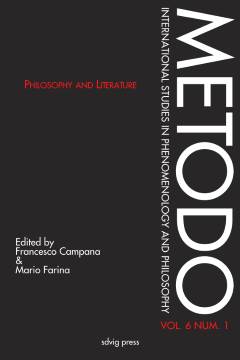 Metodo
Philosophy and literature
Vol. 6 (1)
Edited by
The present issue of Metodo. International Studies in Phenomenology and Philosophy aims to reconsider the philosophical and literary debate of the second half of 20th Century. In this debate, phenomenological tendencies, classic literary theory, hermeneutics and the latest analytic attempts devote their efforts to comprehending literature as a whole. The issue moves from the awareness of the anguished relationship between philosophy and literature, a relationship however that never stops to vindicate its pivotal role in the history of both the disciplines.
Full citation:
Campana, F. , Farina, M. (eds) (2018). Philosophy and literature. Metodo 6 (1).
This document is unfortunately not available for download at the moment.